Top 10 Trips for Couples
Who says sweat and sunscreen can't be romantic? Backroads trips are chock-full of epic experiences that are great to be shared, but in some regions more than others, there's no shortage of love in the air. Whether it's a celebratory kiss on a mountain summit or a post-ride barefoot walk along a white-sand beach, these 10 trips are sure to spark a flame of romance.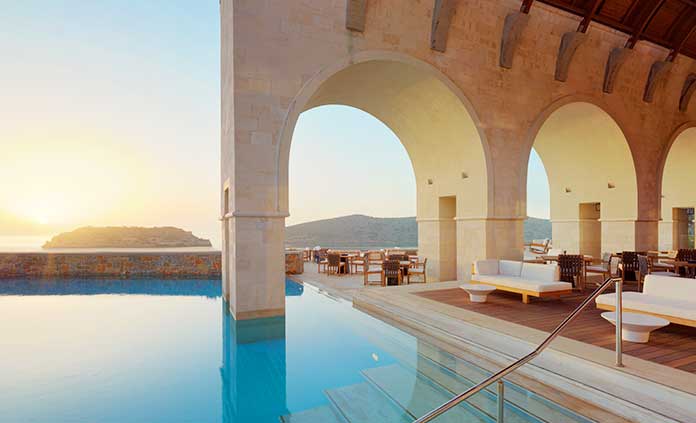 Santorini & Crete Multi-Adventure
Regularly voted one of the most beautiful islands in the world, Santorini envelops you in romance, sunshine, warm water, delicious local wine and perfectly shady rooftop-cafes to sit back with your loved one and watch the world go by. Stroll hand-in-hand through maze-like walkways in the heart of the island's famous white-washed villages above the sparkling Aegean Sea. Savor deliciously fresh seafood and explosively colorful flowers, then relax in luxurious hotels and soak up a distinctly Greek vibe that makes you feel like you've stepped into a dream.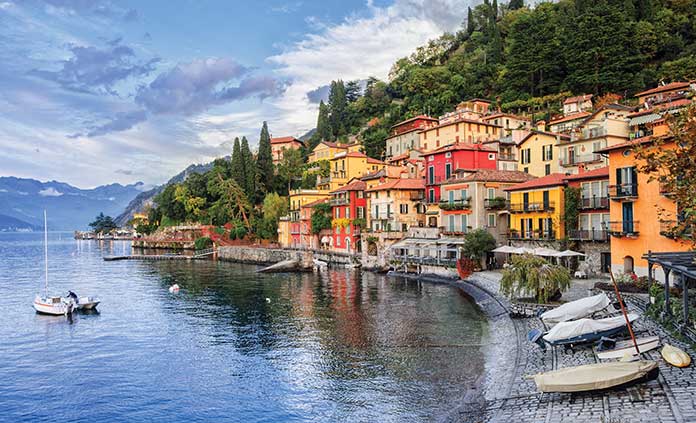 Lake Como & Bellagio Walking & Hiking Tour
It's time to get to know the Great Lakes on the other side of the Atlantic. An alternative to more visited Italian destinations, the Italian Lakes Hiking & Walking Tour is the unsung hero of romanticismo classico. Spend a week in the shadow of the Alps, surrounded by exquisite villas and gardens, potted flowers and perfect piazzas. There are endless quiet corners in picturesque villages to which you can escape with your loved one. In a setting like this, you cannot help but feel you're in the midst of an ancient fairy tale.
Canadian Rockies Snow Adventure
Dogsled by day, fireside games by night. This is one of Backroads' few winter destinations in the Northern Hemisphere and a quieter, more personal time to travel to the Rockies. Whether you are first-time snowshoers or avid ice-hikers, get ready to experience the Rockies in a unique and underappreciated way. After a full day out in the snow, nestle into cozy fireside lodges, enjoy some phenomenal cuisine and take in the panoramic views of your freshly explored territory.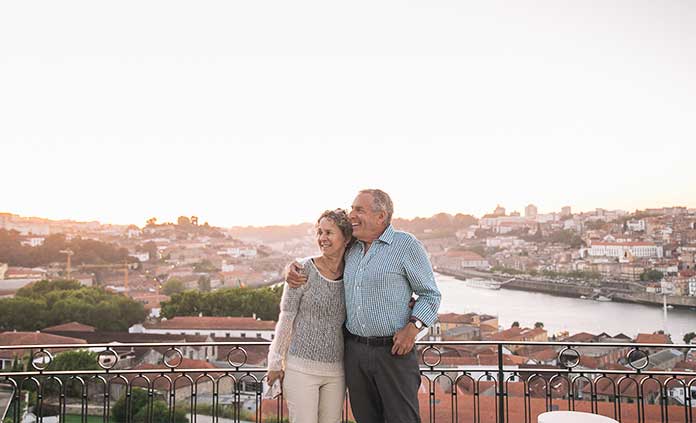 Douro River Cruise Bike Tour
Choose carefully who you decide to tell about the magic of Portugal—this is a truly precious place! The Douro River Cruise is a hit list for city after city of date-night opportunities on lit cobblestone plazas and cozy cafés. From Madrid to Porto, dance through the warm evenings and share sweet wines. Since you unpack just once, you're free to make a nightly ritual of sitting back on your private balcony and watching the stunning scenery drift by. No need to join the rest of the ship for views if you're in the mood for an intimate setting instead.
Provence to the French Riviera Bike Tour
From quaint French countryside to stunning French seaside, you'll feel like you're living in a too-good-to-be-true world. This bike trip offers the chance to rub shoulders with the glitterati on the chic Côte d'Azur and in glamorous Cannes. When not biking, stroll hand-in-hand through enchanting castles and exquisite gardens. Hold tight as you cruise by private boat to dinner. Embrace the flirtatious French way and fall in love with life—as well as each other.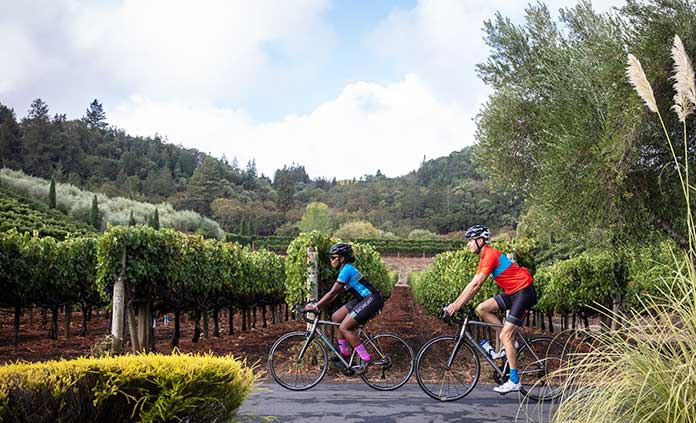 California Wine Country Bike Tour
This trip is designed to allow plenty of time to veer off course and lose yourselves in gorgeous landscapes. Stop at a favorite tasting room to spark a special memory. Start your day with an optional hot-air balloon ride from our hotel in Napa, then end the day relaxing with a Roman Bath at the Sonoma Fairmont Mission Inn. Another day brings a sunset walk along Bodega Bay followed by a soak in an infinity hot tub overlooking the coast under a starry night. Finish the week with a date night in hip downtown Healdsburg. Wine Country at its finest!
Vermont Bike Tour
Charming in its rustic and simple ways, Vermont is the opposite of grandiose romance. Nestle in among some of the most remarkable scenes of fall foliage. Ride alongside each other in the quiet hills of a state with fewer than a million people. Enjoy dinner at a private home-turned-restaurant and savor hot soups, delectable entrees and unbeatable wine. Then snuggle up in your hotel with a warm blanket, cup of hot chocolate, book and total peace of mind. Rinse and repeat all week long.
Patagonia Walking & Hiking Tour
As an active traveler, there are few things more romantic than conquering a summit and sharing joint accomplishments. And on the Argentina Walking Tour, you will have eight epic days to soak up the crystal-clear waters and awe-inspiring peaks of the Andes. Get close to majestic glaciers and each other on a boat ride, and savor world-class Argentine wines at exclusive and remote lodges. Patagonia is extravagantly adventurous and unforgettable. A certain top-of-the-line outdoor gear company is named after this place for a reason.
Maui & Lanai Multi-Adventure Tour
This adventure features some of the most romantic hotels in all of Backroads. Hotel Wailea is the only Relais & Châteaux property on the entire island of Maui and has a 16-and-older age limit. And at the ultra-luxurious Four Seasons on the secluded island of Lanai, take a moonlit stroll right from your room to one of the most exclusive and beautiful beaches in Hawaii. Before or after your trip, surprise your loved one with a helicopter ride around Maui or Molokai, skirting volcanoes, teasing waterfalls and dipping deep into Hawaiian jungles. Paradise? We sure think so.
Amalfi Coast Walking & Hiking
Visualize a hidden European cliffside, speckled with multicolor villas jutting upward from the rich azure water. Now picture a couple speeding along on a Vespa, holding tight to each other as they breeze through charming piazzas. Italians are known for their flirtatious ways, and on the Amalfi Coast, the amore is contagious. Young couples cuddling on the beach, sharing a refreshing spritz and watching the sun set behind the Mediterranean. Older couples holding hands and greeting tourists with a warm "buona sera." Join them, chat with the locals and listen to classic tales of long-lost love.