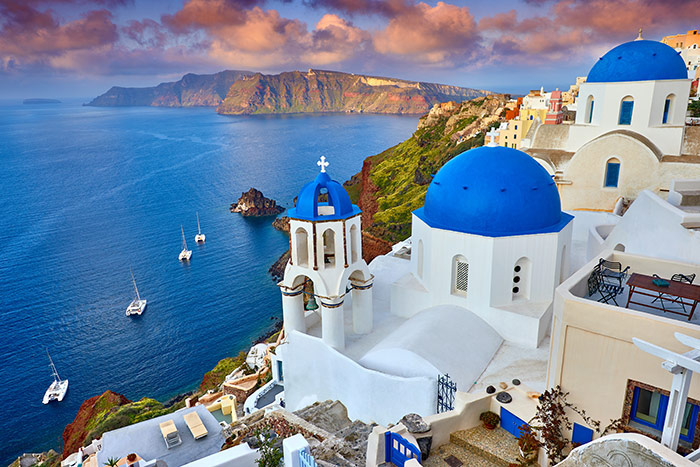 MAKE IT PRIVATE!
Base price now offered with only 6 guests for 2020 trips. LEARN MORE
Santorini & Crete Multi-Adventure Tour
Sun-Splashed Mythical Greek Isles
Beaches, deep mountain gorges and vestiges of great civilizations. Like a gift from the gods, Crete is a cyclist's paradise. Ride quiet roads on the outskirts of bustling port towns. Hike rugged island terrain and savor tranquil moments by the sea. Then journey across the Aegean to breathtaking Santorini. Ancient Mediterranean islands, world-class hospitality, luxurious coastal retreats. This trip is legendary.
THIS ITINERARY: 6 days, 5 nights
ACCOMMODATIONS: Premiere Hotels
FROM: $5,499 - $5,799 pp dbl occ
($1,600 for sgl occ)
Greece
Start Heraklion, Crete / End Santorini
Start/End locations may vary. Do not book flights until your trip details are confirmed.
Highlights
Pedal through vestiges of great civilizations in Crete, an island known today for its stunning scenery and legendary hospitality
Hike amid the iconic blue and white colors of Santorini and then watch the sunset from the beach at our paradisiacal hotel
Journey back in time as you visit historic sites and old-world hamlets set amid orchards of apricots, figs and pomegranate
Celebrate the Mediterranean flavors of local cuisine, savoring delicious fresh dishes honed by deeply rooted cooking traditions
6 Days Premiere Hotels
Accommodations may vary based on departure.
Days 1-3
Start your journey in Crete biking past tiny villages and olive groves | Visit the Areti Monastery in Karydi, a fortified site still inhabited by monks | Savor a glass of sparkling wine and learn a traditional Cretan dance | Soak up the sun over lunch at a local eatery | Cool off with a swim in the dazzling sea or relax in your private pool at our luxurious resort | Hike tranquil paths through soaring gorges and an idyllic Mediterranean countryside | Explore the ancient ruins at Lato, a well-preserved archaeological site with extraordinary panoramic views of Crete's mountains and valleys | Hop aboard a boat for an excursion to neighboring Spinalonga Island | Bike quiet roads from the island's rugged interior to the Aegean Sea | Sample regional dishes and enjoy Cretan hospitality at a local taverna | Opt to find your balance in a yoga class by the beach or pamper yourself at the spa.
Blue Palace Resort & Spa
Luxurious bohemian atmosphere and private infinity pools with stunning views of the sea are just part of what makes this island resort feel so appropriately named. (pool, spa)
Days 4-6
Ferry across the jewel-toned Sea of Crete to awe-inspiring and alluring Santorini | Wander through its picturesque mazelike walkways, past the island's signature blue and white buildings that climb uphill like an architectural bougainvillea | Hike one of Santorini's most scenic volcanic trails | Step into the past as you explore the quiet island of Thirasia | Sample crisp, volcanic soil-grown local wines | Luxuriate in the elegant simplicity of Santo Maris Oia, a Greek Isle oasis | Capture the beauty of the Cyclades during a sunrise walk for a perfect lasting memento.
Santo Maris Oia
Santorini
|
Premiere Hotel
Overlooking the dazzling Aegean Sea, this chic oasis blends elegant style with the authentic feel of this enchanting Greek isle. (pool, spa)
 
Dates & Prices
The earlier you book, the more choice you'll have and the lower your price. And you can always change your mind — you won't be charged to transfer to a different trip before your final payment is due. View cancellation policy
Click on dates for pricing, itinerary variations and to book your trip. Price is per person, double occupancy.
Reviews by Power Reviews ®
Activity Level: 2-4
Every Backroads trip is designed to appeal to a wide variety of interests and fitness levels. We know your pace may vary from one day to the next—and your traveling companion's may differ somewhat from yours. So we present a range of mileage options, and each day you decide exactly what and how much you want to do. LEARN MORE.
Note: This region's landscape is characterized by constant rises and valleys; the continuously rolling terrain and varied road conditions (as well as summertime heat) can make routes feel more challenging than the mileage may suggest.
What's Included
Available Bike Options
Also Included
All breakfasts, 5 lunches, 4 dinners
Expertise and services of our experienced Trip Leaders
Snacks and beverages between meals
Additional guides and experts from the region on many trips
Van shuttles to support a variety of route options
Comprehensive Travel Planner with detailed pre-trip information
Private guided tours at museums, historic sites, wineries and other select attractions as noted in the Travel Planner
All gratuities at hotels and restaurants
Special events, including wine tastings and other select attractions as mentioned in the Travel Planner
On biking and multi-adventure trips, use of fully equipped Backroads titanium bike plus helmet and accessories
Trailercycles, carriers, and kid-sized helmets for Family Trips
Equipment and experienced guides for kayaking, rafting, snorkeling, sailing and canoeing as described
Park and other entry fees
Fares for trains, ferries and other modes of travel as listed in the Travel Planner
Select coach transfers
Baggage transfers and porterage
Straight talk
We want to make sure you're on the right trip and that you have the best experience possible. Every Backroads trip is unique and this one is no exception.
Terrain & Shuttles
Crete is renowned for its spectacular mountain ranges and dramatic gorges. The routes on this trip take you through the best of this diverse landscape, with some steep ascents and descents. Level sections of riding are few and far between, and the winters can leave the roads weathered and worn. Also note that some routes follow quiet winding roads with minimal shoulder and few guardrails. We'll flatten some of the hills with strategic shuttles to give you a boost (and to bypass some busier areas), but you should be comfortable with some long downhills or hopping in the van for a lift.
Shuttle Time
In order to access the most scenic biking routes and significant points of interest on this trip, strategic shuttles are incorporated into several days of our itinerary. Most will be limited to an hour or so at a time, but on some days you can expect to spend a bit more time in the shuttle. Rest assured that we have planned our itinerary to make the most of our time on this spectacular island. So sit back and relax, knowing that someone else is doing the driving, and enjoy the beauty of the journey.
Ferry Crossing
We travel by public ferry across the Aegean Sea to access the wonders of Santorini Island. Be prepared for the possibility of wet windy conditions and bring seasickness medication if you think you'll need it.
Summer Heat & Crowds
Crete and Santorini are popular tourist destinations with busy peak seasons, especially during the summer months and on national holidays. We've planned our itinerary to take you off the beaten path, but crowds are common on these small islands. And keep in mind that summer heat can make biking and hiking more challenging.  
Ask A Trip Expert
Have a question and need expert advice? Our team of Trip Consultants is here to help! You can also visit our FAQ's.
Featured article
Santorini is a Greek island like no other. Stunningly beautiful and distinct from its neighbors in the southern Cyclades, its overwhelmingly gorge...
Read More