Set Your Own Pace
Turn off your phones, turn down your "planner's" mind, and let us take care of everything so you can experience a journey back to yourself and into a new place that inspires. While you establish your own tempo, your traveling companion may have a different pace, and so will the other guests. That's why we design Backroads trips to be incredibly flexible. Each morning you decide exactly what you want to do that day, and how much time you want to spend doing it.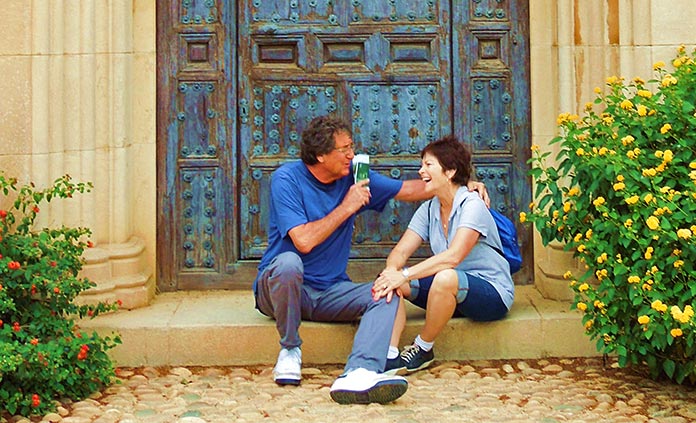 Everybody's Different
People who take Backroads trips often have widely differing expectations and abilities. For some companies this is a real challenge; they can't handle anyone who falls outside a narrow range, let alone a whole mix of abilities.
This is where Backroads is unique. We tailor an exceptional travel experience to fit your priorities and personal style so you never feel constrained by the needs of the group, and your idea of a perfect day isn't imposed on anyone else. Thanks to our agile trip design, plus our unrivaled list of advantages—including three or four leaders, two vans,* multiple route options and the best, most intuitive GPS and paper directions out there—we ensure your personal adventure unfolds just as brilliantly as the ones we create for your traveling companions.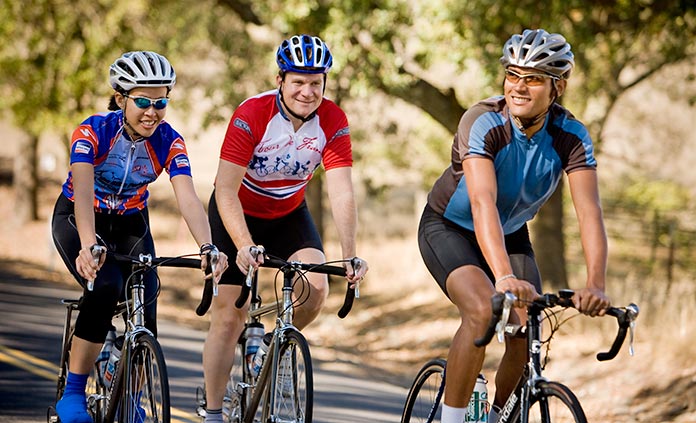 What Suits You Best?
You may prefer a more easygoing trip—because you're new to active travel and want to see what's comfortable. Or you may decide to vary the pace within a trip, tackling the longest route one day and easing off the next, perhaps enjoying an active morning before hitting the sights in town. Or you may like the rhythm of covering a similar distance each day.
Whatever kind of freedom you're looking for—from an epic 100-mile journey to a whole day spent relaxing by the pool—we make it happen.
Activity Levels
Several routes and a range of levels are offered each day so you can choose how much or how little activity you want to do.
Biking
Activity Level
Average Time
Distance
Max Elevation Gain
Level 1
2-3 hours
8-22 miles
Up to 1000 feet
Level 2
2-4 hours
18-32 miles
Up to 2200 feet
Level 3
3-5 hours
26-42 miles
Up to 3400 feet
Level 4
4-6 hours
36-54 miles
Up to 4400 feet
Level 5
5-7+ hours
48-70+ miles
Over 4400+ feet
See each trip page for detailed day-by-day route descriptions.
The eBike reduces the time and effort required for each biking level.
For our few trips that utilize mountain bikes, distances are shorter. Our mountain bikes use wider tires more appropriate for the terrain. View trip locations
Walking & Hiking
Activity Level
Average Time
Distance
Max Elevation Gain
Level 1
2-3 hours
2-5 miles
Up to 800 feet
Level 2
2-4 hours
4-7 miles
Up to 1300 feet
Level 3
3-5 hours
5-9 miles
Up to 2000 feet
Level 4
4-6 hours
6-11 miles
Up to 3000 feet
Level 5
5-7+ hours
7-13+ miles
Up to 4000+ feet
See each trip page for detailed day-by-day route descriptions.

Please note that our distance and elevation figures come from Ride with GPS. Other sources may give differing elevation figures due to different GPS and mapping technologies and other external factors.
* Over 95% of Backroads guests on scheduled trips travel with three Backroads trip leaders or support staff, and two or more vehicles. We even add a fourth leader for meet and move days on some of our most logistically complex trips with the most guests to ensure everyone enjoys the best possible support. On less than 5% of scheduled trips, the number of guests is small enough that we can maintain our trademark high service standards with just two leaders and one van.