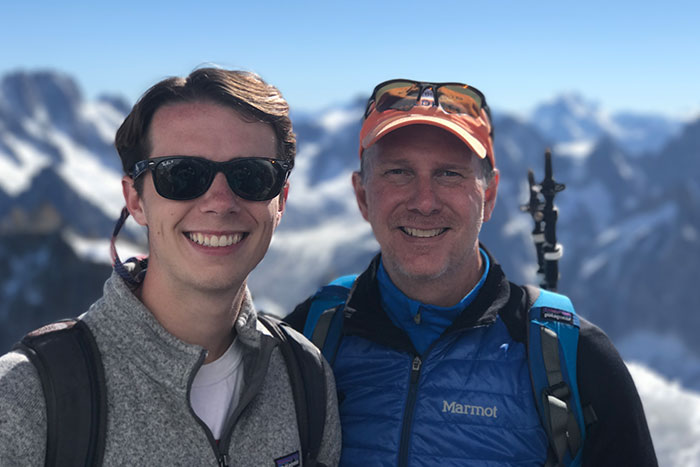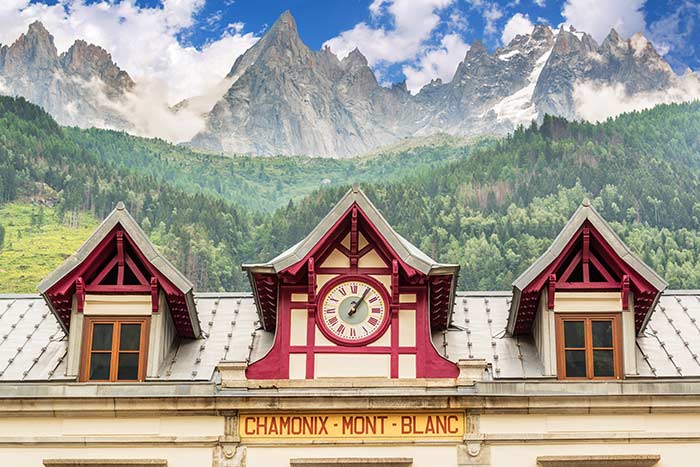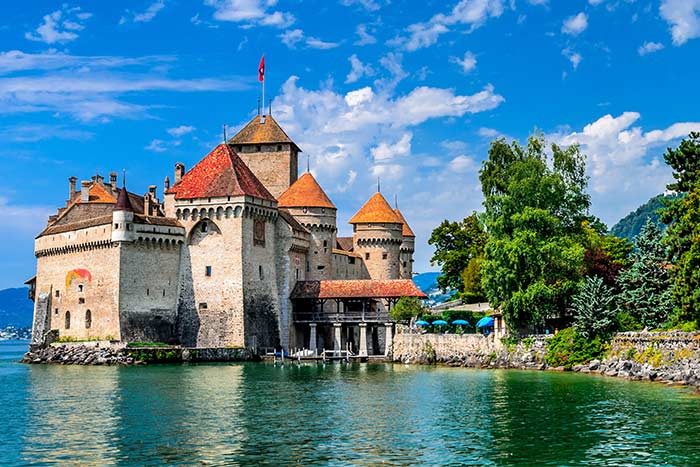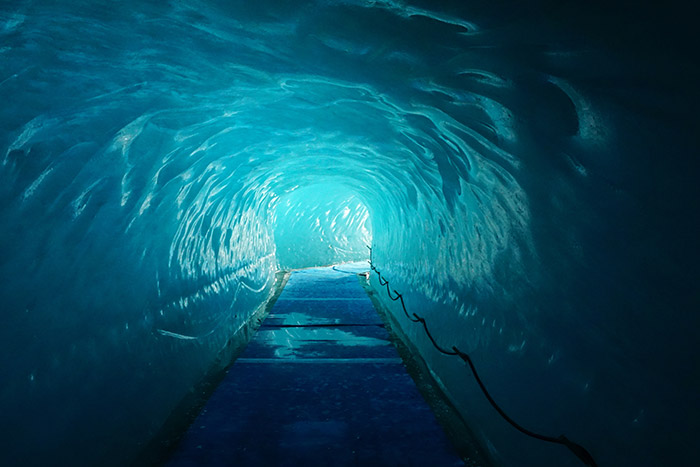 MAKE IT PRIVATE!
Base price now offered with only 6 guests for 2020 trips. LEARN MORE
French, Italian & Swiss Alps Family Multi-Adventure Tour - 20s & Beyond
Legendary Mont Blanc, Chamonix & Lake Geneva
Follow sections of the incomparable Tour du Mont Blanc trail. Fly over glaciers and peaks as you cross borders by gondola. Hike routes through valley forests and above the shore of Lake Geneva. Trek into the World Heritage landscape of Montreux. Glacier walks, white-water rafting and kayaking add even more thrills. Score an alpine hat trick on this adventure in Italy, France and Switzerland.
THIS ITINERARY: 6 days, 5 nights
ACCOMMODATIONS: Premiere Hotels*
FROM: $4,999 pp dbl occ
($1,000 for sgl occ)
France, Italy & Switzerland
Start/End Geneva, Switzerland
Start/End locations may vary. Do not book flights until your trip details are confirmed.
Highlights
Trek in the foothills of iconic Mont Blanc, on a balcony trail below the Aiguille du Midi and along the Mer de Glace glacier
Discover alpine trails in the Aosta Valley, where a lush wooded landscape opens up to views of snowcapped mountains
Paddle Class III rapids on the Dora Baltea river and glide in a kayak across glacial Lake Geneva to an ancient Swiss castle
Immerse yourself in an awe-inspiring landscape from Italy's Courmayeur to the French mountaineering center of Chamonix
6 Days Premiere Hotels*
Accommodations may vary based on departure.
Days 1-2
Journey through a mountain wonderland in the Italian Alps | Hike hand-picked sections of the Tour du Mont Blanc trail, considered one of the best hikes in the world | Follow a picturesque balcony trail over Val Ferret, taking in scenes of Monte Bianco (Mont Blanc) and the wondrously green valley below | Stop for lunch at a postcard perfect rifugio (mountain refuge) | Trek in the Aosta Valley, home to ibex, chamois, eagles and marmots | Raft down class III rapids on the glacial Dora Baltea river | Dive into Courmayeur's unique Italian mountain culture and atmosphere.
Auberge de la Maison
Entrèves
|
Premiere Hotel
Mountain charm and warm hospitality are highlights at this hotel in the picturesque Italian Alps. (pool, spa)
 
Day 3
Fly over glaciers and peaks as you cross the border between Italy and France by gondola | Gaze up at the Aiguille du Midi, a lone needle of rock looming above ice fields and moraine-strewn crags | Admire breathtaking views of the Chamonix Valley from the summit | Channel your inner mountaineer at Refuge du Montenvers, a unique high-altitude hotel that has housed explorers since the late 19th century.
Refuge du Montenvers
Le Montenvers
|
*
Casual Hotel
Wake up to a panorama of the Mer de Glace and Aiguille des Drus in this recently renovated 19th-century mountaineering landmark that once hosted Victor Hugo, George Sand, Charles Dickens and Napoleon III.
Days 4-6
Hike with crampons and local high-mountain guides on the Mer de Glace (Sea of Ice), the Alps' second-largest glacier | Enjoy an unforgettable picnic lunch at the top | Wander through the famed mountaineering center of Chamonix | In Switzerland, sparkling Lake Geneva awaits | Splash around in the pool, soak up the sun or unwind at the spa at the incomparable Fairmont Le Montreux Palace | Head into Vaud and follow trails amid lush vineyards and magnificent peaks with beautiful views of Lake Geneva | Kayak to Chillon Castle, an island fortress that once controlled passage between northern and southern Europe | Trek through the terraced vineyards of World Heritage landscape Montreux | Au revoir! Bid farewell to an incredible family journey through the Alps.
Fairmont Le Montreux Palace
Montreux
|
Premiere Hotel
On the shore of dazzling Lake Geneva, this palatial hotel features top-notch service, outstanding views of the Alps and sun-filled luxurious rooms. (pool, spa)
Dates & Prices
The earlier you book, the more choice you'll have and the lower your price. And you can always change your mind — you won't be charged to transfer to a different trip before your final payment is due. View cancellation policy
Click on dates for pricing, itinerary variations and to book your trip. Price is per person, double occupancy.
Reviews by Power Reviews ®
Activity Level: 2-4
Every Backroads trip is designed to appeal to a wide variety of interests and fitness levels. We know your pace may vary from one day to the next—and your traveling companion's may differ somewhat from yours. So we present a range of mileage options, and each day you decide exactly what and how much you want to do. LEARN MORE.
Note: The hiking terrain on this trip includes paved and gravel access roads, well-maintained dirt paths and rocky exposed trails. During our glacier-walking excursion, we're accompanied by expert mountain guides and we'll wear crampons to walk on snow and ice. An alternative hiking option is available if this activity is not for you. Most activities take place at elevations of 6,000–8,000 feet (and up to 12,000 feet), which can make the routes feel more challenging than the mileage may suggest.
What's Included
All breakfasts, 6 lunches, 4 dinners
Expertise and services of our experienced Trip Leaders
Snacks and beverages between meals
Additional guides and experts from the region on many trips
Van shuttles to support a variety of route options
Comprehensive Travel Planner with detailed pre-trip information
Private guided tours at museums, historic sites, wineries and other select attractions as noted in the Travel Planner
All gratuities at hotels and restaurants
Special events, including wine tastings and other select attractions as mentioned in the Travel Planner
On biking and multi-adventure trips, use of fully equipped Backroads titanium bike plus helmet and accessories
Trailercycles, carriers, and kid-sized helmets for Family Trips
Equipment and experienced guides for kayaking, rafting, snorkeling, sailing and canoeing as described
Park and other entry fees
Fares for trains, ferries and other modes of travel as listed in the Travel Planner
Select coach transfers
Baggage transfers and porterage
Straight talk
We want to make sure you're on the right trip and that you have the best experience possible. Every Backroads trip is unique and this one is no exception.
Two Leaders
We ordinarily staff our trips with three leaders: two leaders out on the trail offering support—allowing everyone to have the experience they want, whether it's an easygoing interpretative walk or a rigorous hike—while the third leader moves the van from trailhead to trail end. This trip is a little different in that our routes are a combination of loop hikes and out-and-back trails that begin and end in the same location. This means that you'll still have the same two leaders providing excellent trail support without the need for a third leader to move the van.
Terrain & Trail Support
Our hikes through the Alps' captivating rugged terrain climb rocky and sometimes uneven paths, many of which are remote and do not intersect with roads. Vehicles will get us to and from the trailheads, but due to the nature of these trails, we won't see our vehicles along the route. Ample trail support in the form of water, snacks and encouragement is provided by your Backroads leaders and local guides.
Weather
Hiking in the mountains can mean quickly changing, unpredictable weather, even during the warm and sunny summer months. Careful packing is essential for your comfort and overall enjoyment. Be prepared to carry multiple layers every day on the trip—warm base layers, a windproof/rain jacket and rain pants, and even a down jacket, hat and gloves for our day hiking on the glacier.
Ask A Trip Expert
Have a question and need expert advice? Our team of Trip Consultants is here to help! You can also visit our FAQ's.