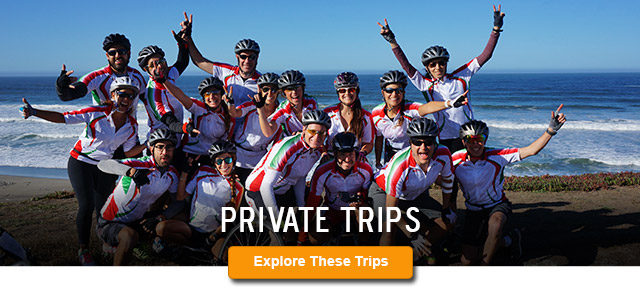 Take a moment and think back on the best trip you've ever taken or the best adventure you've ever had. We're willing to bet it was special not just because of where you were but who was there to share it with you. Traveling brings you closer, builds friendships and forms bonds that never break. Our Private Trips are the perfect way to explore and connect while Backroads handles all logistics and shows you the absolute best ways to experience the world. Take a couples trip to the Spanish Mediterranean or get to know your colleagues while biking through California's Wine Country. Gather your extended family and discover Croatia's Dalmatian Coast or escape to the rugged Adirondacks. Now is the time to make it happen! Pick a trip, gather your crew and let Backroads plan the trip of a lifetime.

To book your trip, call us at 800-462-2848; we're open daily 6 am - 6 pm, Pacific time. Or visit us at www.backroads.com.
Private Trips for Friends & Couples
Pyrenees to Costa Brava
Biking
Starting in vibrant Barcelona, sweep through the heart of Catalonia and into the breathtaking and rugged Pyrenees before descending toward Costa Brava's warm air and glorious sea views. A landscape made for cyclists; it's time to enjoy the ride.

Tuscany & Umbria
Biking
Artists and writers have been singing the praises of Tuscany and Umbria for centuries. It's the slow pace of life, the symphony of flavors, the sheer passione of the locals. Bike through villages, local markets and countryside unchanged for generations. Come to the heart of Italy.
San Juan Islands
Biking
Island-hop by ferry and pedal through stunningly diverse scenery, from conifer forests to farmland to seaports. Unfolding before you: a panorama of islands, ocean wildlife, and even snow-covered Mt. Baker.

Peru
Walking & Hiking
Few areas on Earth can claim more ancient mysteries per square mile than Cusco, the Sacred Valley and the fascinating "Lost City of the Incas." Hike to colorful Quechua markets and extraordinary Inca ruins, including legendary Machu Picchu.
Private Trips for Families
Dalmatian Coast
Family Multisport
Sapphire waters to your left, Renaissance façades on your right, sun-drenched islands on the horizon. Island-hop along the sunny Adriatic and splash around in hidden coves. Hike, bike and paddle your way through this coastal paradise. Choose Family or Family Breakaway.

Stockholm to Copenhagen
Family Biking
Be awed by the stunning land and seascape of the Stockholm archipelago—bathed in the sparkle of midnight sun—before making your way down to the colorful Danish Riviera. Enjoy magnificent castles, stunning seascape and delicious New Nordic cuisine. Choose Family or Family Breakaway.
Santa Barbara & Ojai Valley
Family Biking
Pedal palm-fringed bike paths along the sun-kissed coast of the American Riviera. Be tempted by a wealth of diversions along the way—quaint towns, historic sites, wine tastings, a nature reserve and stunning views of the Pacific coast and Channel Islands. Classic California! Choose Family or Family Breakaway.

Adirondacks
Family Multisport
The Adirondacks—an area as vast as Yellowstone, Yosemite and Glacier combined. The last place to be explored in the Northeast. Hike, bike and sail your way through a region filled with hundreds of forest-encased lakes, high peaks and rugged wilderness. Escape to something wild! Choose Family or Family Breakaway.
Private Trips for Colleagues
Provence to the French Riviera
Biking
Exquisite wines. Spectacular rides. Shimmering beaches. Glowing sunsets. You don't need to speak French to appreciate the earthy allure of Provence or the glamorous seduction of the French Riviera. Slow down. Southern France is for savoring.

California Wine Country
Biking
Savor a vintage Backroads experience just north of San Francisco in Wine Country. Enjoy winery visits, gourmet cuisine, redwood forests and luxury spas as you pedal from Napa and Sonoma vineyards to the dramatic Pacific coast. The good life doesn't get any better than this!
Charleston to Savannah
Multisport
Bike under shady live oaks draped in moss. Strike up a conversation over a glass of sweet tea. Savor the Southern charm of Charleston, Beaufort and Savannah. Dine extravagantly and find rejuvenation as you enjoy your time spent at a more relaxed pace of life.

Yosemite
Walking & Hiking
It's no mystery why this is one of the world's most beloved destinations for true natural splendor. El Capitan, Half Dome, Yosemite Falls—icons of nature's magnificence. Explore glacier-carved clifftops, towering sequoia trees and expansive alpine meadows.