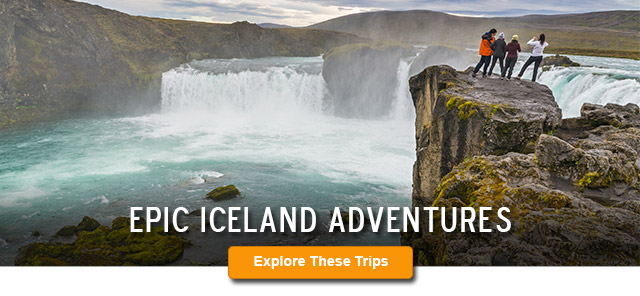 Few places on earth conjure a more rugged, wild and pristine image in a traveler's mind than Iceland. And Backroads is offering even more ways for you to truly get off the beaten path. We're thrilled to announce a genuine first for Backroads—our brand new Iceland Ocean Cruise! Skirting the coast of the "Land of Fire & Ice" we venture ashore to explore winding trails, geologic marvels and vibrant countryside on foot—it's an Iceland experience unlike any other.

Whether you choose to join us on this new ocean cruise adventure or opt for one of our other epic Iceland walking & hiking or multisport trips, now is the time to come see this remarkable landscape. Bring your adventure partner, bring your family or simply grab your pack and travel solo—you'll soon be among friends as Backroads immerses you in the wonders of Iceland. Join us!

To book your trip, call us at 800-462-2848; we're open daily 6 am - 6 pm, Pacific time. Or visit us at www.backroads.com.
NEW Iceland Ocean Cruise Walking & Hiking
Passage to the Land of Fire & Ice
Discover Iceland as the Vikings did... by sea! Set sail and journey toward the Arctic Circle. Linger on secluded islands with vast puffin colonies. Cruise down magnificent fjords toward immaculate wilderness. Venture inland to explore the wild volcanic landscape and feel your own saga unfold.
All contents and photography © 2016 Backroads | 801 Cedar Street, Berkeley, CA, 94710 | 800-462-2848