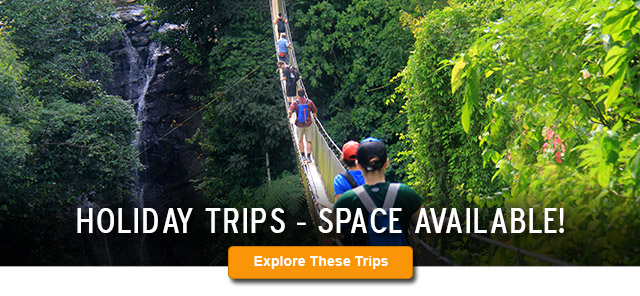 If you're still looking to plan your holiday travel but are daunted by the logistics or worried there might not be space for you, then you're in luck! Though limited, we still have space on some of our most popular and truly magnificent holiday adventures and we'd love to have you join us. We'll whisk you and your family away to the jungles of Costa Rica or the tropical islands of Hawaii, where the whales have just arrived from Alaska and are already breaching just offshore. Or escape to the endless summer of Southern California and bike through luxurious Santa Barbara & Ojai Valley. No worries, no hassle and no further planning required other than to give us a call and let us make it all come together flawlessly for you. Show up, kick back and have the time of your life. What's not to love?

To book your trip, call us at 800-462-2848; we're open daily 6 am - 6 pm, Pacific time. Or visit us at www.backroads.com.
Santa Barbara & Ojai Valley
Biking - 12/19
Pedal palm-fringed bike paths along the sun-kissed coast of the American Riviera. Be tempted by a wealth of diversions along the way—quaint towns, historic sites, wine tastings, a nature reserve and stunning views of the Pacific coast and Channel Islands. Classic California!

Myanmar
Biking - 12/28
Mingalar par! Let us show you why we've been exploring this long-cloistered country by bike for nearly 20 years. It's the landscapes, the complex history, the diverse culture and the authenticity of the people. Experience an epic journey through a recently forbidden land.
Everglades to Key West
Multisport - 12/30
Venture into the cypress domes and World Heritage site of the Everglades, pedal along the Overseas Heritage Trail and spot sea life as you explore turquoise waters by snorkel, kayak and boat. Relax and soak in the warm breezes at a leisurely pace. Florida at its finest!

Hawaii's Big Island
Multisport - 12/25
It's called the "Big Island" for a reason—steaming volcanoes, giant cascading waterfalls, dense rain forest filled with sounds of the jungle and, of course, miles of sandy beaches, palm trees and sunshine. Hike, bike and kayak your way through the majesty of it all.
Costa Rica
Family Multisport - 12/20 or 12/26
Full-throttle fun and adventure in Costa Rica! Bike through quaint villages and hike hidden paths to giant waterfalls. Surf remote beaches and zip line through the rain forest. Is this real life? Get ready to hike, ride, paddle and explore!

Panama
Family Multisport - 12/28
This carefree, fun-filled and action-packed escape is loaded with opportunities for bird-watching, boat rides, beach time, cultural immersion and more. From the majesty of the Panama Canal to cloud forests to tropical retreats on the coast, this family adventure has it all.
Hawaii's Big Island
Family Breakaway Multisport - 12/17
With emerald-green cliffs and miles of picture-perfect coastline, Hawaii is the ultimate outdoor destination. Hike on an active volcano, bike enchanted valleys and kayak crystalline waters before lounging on the beach.

Maui & Lanai
Family Breakaway Walking & Hiking - 12/23
Experience the beauty and diversity of two dynamic Hawaiian islands! Kayak, snorkel and hike from Maui's rain forests and dramatic Haleakala volcano to beautiful Hulopoe Beach on the exclusive island of Lanai. Enjoy action-packed days and two of Hawaii's most exquisite hotels.
Bali
Family Breakaway Biking - 12/30
Explore emerald rice terraces, peaceful villages, sacred pools and busy markets on this warm-weather Family Breakaway trip. Mingle with welcoming locals, snorkel in a blue lagoon and simply sit back on a sunny tropical beach—find your bliss in Bali.

Peru
Family Breakaway Walking & Hiking - 12/29
Few areas on Earth can claim more ancient mysteries per square mile than Cusco, the Sacred Valley and the legendary "Lost City of the Incas." Hike to colorful Quechua markets and extraordinary Inca ruins, including legendary Machu Picchu.
All contents and photography © 2016 Backroads | 801 Cedar Street, Berkeley, CA, 94710 | 800-462-2848