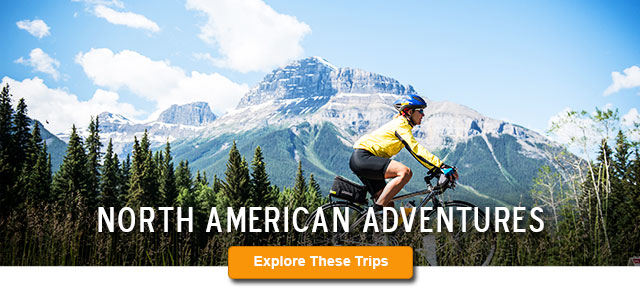 Sometimes the greatest travel experiences are found not in faraway lands but close to home. North America is an amazing place, a continent of wild places and landscapes full of natural wonders. Now is the perfect time to get out and experience it! After a wet winter in the West, 2017 is going to be an exceptional year for seeing waterfalls, wildflowers and lush green beauty, from Alaska to Hawaii to New Mexico. Hop on a bike and explore the magnificence of the Canadian Rockies or venture onto thrilling canyon trails in Utah's Zion National Park. Or simply enjoy an early spring as you pedal (and sip!) your way through the Southern California sunshine of Santa Barbara. Experience the very best of it all with Backroads.
To book your trip, call us at 800-462-2848; we're open 7 days a week 6 am - 6 pm, Pacific time. Or visit us at www.backroads.com.
Alaska's Kenai Peninsula
Walking & Hiking
Take the hike of a lifetime along Exit Glacier with sensational views, trek through alpine grandeur in lofty Crow Pass and visit coastal towns brimming with Alaskan character. The spirit of Alaska can hardly be captured in words—you simply have to feel it.

Yellowstone & Tetons
Multisport
As true as Old Faithful, we bring you a glorious adventure by bike, foot, raft and kayak. Discover the Tetons' glacial lakes, alpine meadows and vertical peaks. Be awestruck by the Grand Canyon of the Yellowstone and the park's geothermal activity.
Bryce & Zion
Walking & Hiking
Two of the West's greatest day hikes—Angels Landing and The Narrows—are among the many epic highlights of this extraordinary trip through Utah's red rock canyon country. Explore two iconic national parks and experience the wild and remarkable geologic marvels of the desert.

Santa Fe & Taos
Biking
Experience truly great riding from the Enchanted Circle of Taos to the Jemez Mountains, pedaling through a warm desert world of Spanish, Mexican, European and Native American cultural influences. Enjoy delicious Southwestern cuisine, luxurious hotels and fresh desert air.
Canadian Rockies
Biking
Snowcapped mountains, virgin forests, crystalline lakes and blue-green rivers. The raw beauty here can take your breath away! Discover this magnificent mountain range while pedaling past massive glaciers and wondrous wildlife.

Canadian Rockies
Multisport
Ride and hike epic routes and trails amid a vast wilderness of majestic peaks, massive glaciers, pristine mountain lakes and broad valleys. Raft the famous whitewater of the Kicking Horse River and spot wildlife in every direction. There's no place quite like the Canadian Rockies.
Santa Barbara & Ojai Valley
Biking
Cruise palm-fringed bike paths along the sun-kissed coast of the American Riviera. Be tempted by a wealth of diversions along the way—quaint towns, historic sites, wine tastings, a nature reserve and stunning views of the Pacific Coast and Channel Islands. Classic California!

California Wine Country
Biking
Savor a vintage Backroads experience just north of San Francisco in Wine Country. Enjoy winery visits, gourmet cuisine, redwood forests and luxury spas as you ride from Napa and Sonoma vineyards to the dramatic Pacific Coast. The good life doesn't get any better than this!
Québec
Multisport
Everything about Québec says old-world charm. You'll experience it riding through farmland on idyllic islands and taste it in every superb farm-to-table meal. Walk cobblestone streets in Québec City that will make you wonder if you've somehow stepped into medieval Europe—a true North American original.

Travel + Leisure's "World's Best"
We need your vote!
Backroads is nominated for Travel + Leisure's "World's Best Tour Operator" award, which is a pretty big deal! We would very much appreciate two minutes of your time to cast your vote. Please vote here and find us in the "Tour Operators/Safari Outfitters" category. Thank you!
All contents and photography © 2017 Backroads | 801 Cedar Street, Berkeley, CA, 94710 | 800-462-2848