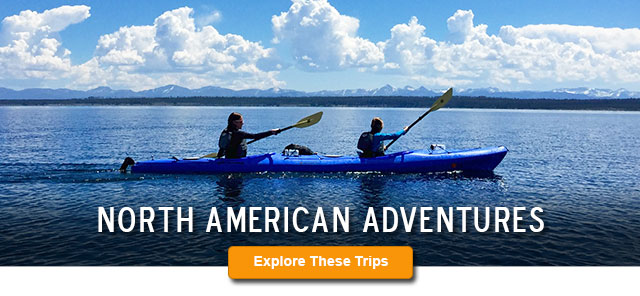 You don't have to travel to faraway lands to experience truly epic family adventures. North America is a continent of wild places and landscapes full of natural wonders. Now is the perfect time to get out and experience it with your family! After a wet winter in the West, 2017 is going to be a magnificent year for seeing waterfalls, wildflowers and lush green beauty, from Yosemite to Hawaii to Yellowstone and beyond. Hop on a bike and explore the beautiful seascapes of Nova Scotia or venture onto the thrilling canyon trails in Utah's Zion National Park. Or simply enjoy an early spring as you and your family pedal through the Southern California sunshine of Santa Barbara. Experience the very best of it all with your family and Backroads.
To book your trip, call us at 800-462-2848; we're open 7 days a week 6 am - 6 pm, Pacific time. Or visit us at www.backroads.com.
Yellowstone & Tetons
Family Multisport Adventure
From granite to geysers, delve into these two epic national parks with wranglers, guides, wildlife and locals. Float on the Snake River, ride through wildflower-strewn meadows on horseback, kayak alpine lakes and keep an eye out for bison, elk and bears. The Wild West lives on! Choose Family or Family Breakaway.
Yosemite
Family Multisport Adventure
El Capitan, Half Dome, Yosemite Falls—legendary landmarks amid epic natural grandeur. Bike through the heart of Yosemite Valley, hike to panoramic vistas and walk beneath towering giant sequoia trees. Kids rock climb and parents get lost in the majesty. Welcome to Yosemite! Choose Family or Family Breakaway.

Santa Barbara & Ojai Valley
Family Biking
Pedal palm-fringed bike paths along the sun-kissed coast of the American Riviera. Tempt your family with a wealth of diversions along the way—quaint towns, historic sites, sunny beaches, surf lessons and stunning views of the Pacific coast and Channel Islands. Classic California! Choose Family or Family Breakaway.
Québec
Family Multisport Adventure
Take your family to Europe—without leaving North America! Discover castles, gourmet cuisine and fascinating history in Canada's "New France" as you bike and hike and adventure through it all. Enjoy this culturally rich vacation in a truly unique North American destination. Choose Family or Family Breakaway.

NEW! Nova Scotia
Family Multisport Adventure
Get ready for adventure-filled days of kayaking, lobster eating, hiking, whale watching and beach frolicking! Experience this charming maritime corner of Canada filled with beautiful ocean seascapes, lighthouses and enough fun for every member of the family.
Canadian Rockies
Family Multisport Adventure
Pedal and hike family-friendly routes amid stunning scenery of mighty peaks, vast icefields and turquoise-colored lakes. Raft the famous whitewater of the Kicking Horse River and spot wildlife with our expert Trip Leaders. Enough fun and adventure for a whole summer! Choose Family or Family Breakaway.

Travel + Leisure's "World's Best"
We need your vote!
Backroads is nominated for Travel + Leisure's "World's Best Tour Operator" award, which is a pretty big deal! We would very much appreciate two minutes of your time to cast your vote. Please vote here and find us in the "Tour Operators/Safari Outfitters" category. Thank you!
All contents and photography © 2017 Backroads | 801 Cedar Street, Berkeley, CA, 94710 | 800-462-2848