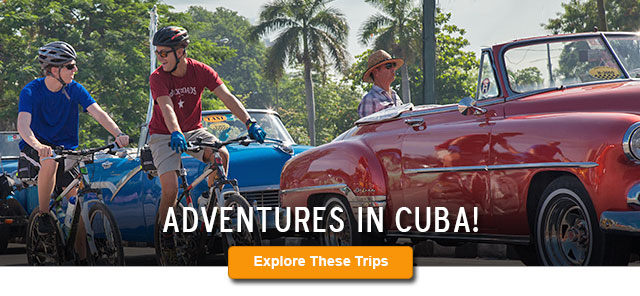 What do you imagine when you think of traveling to Cuba? Classic cars rolling down the roads? Havana city scenes that look like you've stepped back in time? How about delicious local food and lively music that fills the warm Caribbean nights? It's all waiting to be seen, tasted and heard, and there's no better way to experience it all than with Backroads. Our local connections offer exclusive and authentic access to the people and places that bring Cuba to life. You can now choose between three exceptional styles of travel—Biking, Walking & Hiking and Multisport. Take your pick and let's go experience this captivating country together!
To book your trip, call us at 800-462-2848; we're open 7 days a week 6 am - 6 pm, Pacific time. Or visit us at www.backroads.com.
NEW! Cuba Biking
Brand new in 2018, a dedicated biking trip in Cuba! From white-sand beaches to lush Viñales farmlands, historic Havana and beyond. See and experience it all as you ride side by side with locals and cruise picturesque backstreets. Let Backroads immerse you in this country's natural beauty, culture and history—all from the seat of your bike!

Cuba Walking & Hiking
Exciting changes are happening daily, so join us and be part of history! From the seductive vibe of Havana to coffee plantations and ancient caves, you'll enjoy special connections with local artisans, discover rural villages and experience a magnificent world from a bygone era. Lace up your walking shoes and soak it all in at your leisure.
Cuba Multisport
Combine biking and hiking for a mix of adventure in the vibrant world of Cuba. Explore this charming island nation and meet farmers, artists, dancers and journalists. Discover vintage cars, colonial towns, plantations and Caribbean sun. All set to an infectious rumba beat. Choose Classic or Family Breakaway.

Cuba Video
Enjoy this short video taken on our Cuba Multisport Adventure—all the unique and beautiful aspects of Cuba you've always imagined, plus so much more!
All contents and photography © 2017 Backroads | 801 Cedar Street, Berkeley, CA, 94710 | 800-462-2848