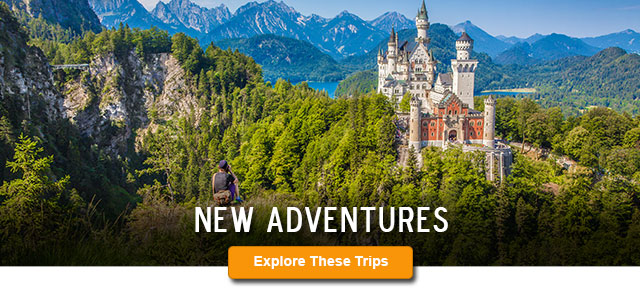 It's 2017! A new year, a new beginning. Are you looking to be inspired? Have an adventure? Or experience something fresh and different? These 10 new trips are particularly magical for the New Year, promising to be truly original journeys that could make it your best year yet.
Venture into the skies and tackle the Canadian Rockies on our brand-new heli-hiking trip or pack your swimsuit and soak up the sun in Bermuda as you pedal your way from one white-sand beach to the next. Lace up your hiking shoes and go deep into the Bavarian Alps as you hike among fairytale castles and experience a true alpine wonderland. There's no better time than now to make it happen—to experience something extraordinary, to be inspired and to open up doors to a whole new future.
To book your trip, call us at 800-462-2848; we're open daily 6 am - 6 pm, Pacific time. Or visit us at www.backroads.com.
Top Backroads Trips for the New Year
Czech Republic & Austria
Biking
From the "Golden City" of Prague to the elegance of Vienna. Pedal rolling pastures and crisscross the famous Danube River amid timeless villages. Then dig into hearty Czech and Austrian specialties at fine local restaurants. Choose Classic or Family Breakaway.

Provence
Biking
The heart of timeless Provence awaits as you explore some of the designated "Plus Beaux" (Most Beautiful) villages in all of France. Ride past lavender fields and rolling vineyards, taste wines and let the flavors of France swirl around you.
Dolomites Hut-to-Hut
Hiking
Take your adventure to new heights through the heart of Italy's Dolomite Mountains—jagged peaks piercing into the sky around you as you trek from pass to pass and hut to hut. Bursts of wildflowers and green grass splash bright colors across this alpine landscape.

Salzburg to Munich
Walking & Hiking or Biking
Through the Northern Alps of Germany and Austria, follow some of Europe's most celebrated footpaths and roads past limestone massifs, alpine meadows and sparkling lakes. Immerse yourself in this Bavarian world of fairytale castles and alpine charm. Enjoy exquisite wines and Michelin-starred cuisine. Choose Walking & Hiking or Biking.
Basque Country
Multisport
Discover the pastoral Pyrenees as you bike and hike from Bilbao to Biarritz. Bask on a Basque beach, nibble on tapas, hike with pilgrims and bike along the sea from Spain to France. An adventure in this unique and charming region is like no other. Choose Classic, Family or Family Breakaway.
Napa Valley
Biking
Uncork your passion for discovery in legendary Napa Valley. Bike among sun-drenched vineyards, stopping to taste at acclaimed wineries. Dine at Michelin-starred Solbar in Calistoga—California cuisine at its best. Savor unique local style at a pair of elegant inns. And perhaps extend your trip (maybe even leave your heart) in sensational San Francisco.

Adirondacks
Multisport
Escape with us to the Adirondacks, a wild and rugged landscape brimming with natural beauty and rich history. Hike through pristine woodland and up to high viewpoints. Bike alongside meandering rivers, past alluring villages and distinctive architecture. Be mesmerized by the region's many lakes, including Champlain, Placid and George. Choose Classic, Family or Family Breakaway.
Canadian Rockies
Heli-Hiking
Get set for a peak experience in the Canadian Rockies! Start your trip with stunning hikes in Banff National Park. Then unleash your sense of adventure, journeying by helicopter to reach a remote and undisturbed wilderness. With privileged access to otherwise inaccessible areas, hike amid pristine lakes, glaciers, waterfalls and towering mountains. Choose Classic or Family Breakaway.

Bermuda
Biking
Bike past turquoise waters lapping pink-sand beaches and see the blue-green pools of Crystal Caves. Swim through coral reefs and fall in love with the Bermuda Mark Twain preferred over heaven. There's something for everyone in this island paradise! Choose Classic, Family or Family Breakaway.
All contents and photography © 2017 Backroads | 801 Cedar Street, Berkeley, CA, 94710 | 800-462-2848