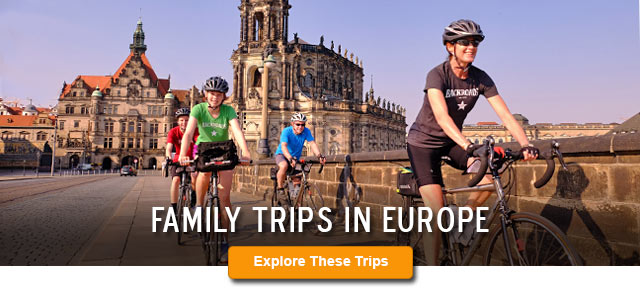 While there will always be hot new travel destinations around the world, certain places will forever be magnificent for the whole family—and these European trips are at the top of our list. Whether exploring the majesty of the Swiss Alps, lounging in the sunshine on a Spanish beach or biking and island-hopping down the Dalmatian Coast, it's hard to compete with the old-world charm and undeniable beauty of these top European destinations. If you're looking for rich and engaging history, elegant hotels, scenic landscapes or simply an all-around epic family experience that will be remembered for a lifetime, these trips offer all you're looking for and more.
Choose between Family Adventures for families with teens & kids of all ages, or Family Breakaway Trips for families with older teens & 20-somethings.
To book your trip, call us at 800-462-2848; we're open daily 6 am - 6 pm, Pacific time. Or visit us at www.backroads.com.
Top Europe Trips for Families
Switzerland
Multisport
Soar to majestic peaks on gondolas and funiculars. Ride cogwheel trains and cable cars. Spin past glacier-fed waterfalls, hike through green valleys and ferry across alpine lakes. Even glide down a luge track and send your kids on an adventurous ropes course! Plus hot chocolate and fondue—Switzerland will capture your heart! Choose Family or Family Breakaway.

Dolomites
Multisport
An unforgettable week in Italy's stunning mountain wonderland. Bike on old railway paths and get a golden eagle's perspective on chairlifts and gondola rides. Rock climbing and strudel-making lessons for kids, wine tastings for grown-ups, an epic experience for the whole family.
Basque Country
Multisport
Bask on a Basque beach, nibble on tapas, hike with pilgrims and bike along the beautiful coastline from Spain to France. Take surfing lessons, paddle a kayak to an offshore island, explore the picturesque French countryside and relax in luxurious comfort. This is right where you need to be. Choose Family or Family Breakaway.

Dalmatian Coast
Multisport
Sapphire waters to your left, Renaissance façades on your right, stunning beaches waiting to be explored. Island-hop along the sunny Adriatic and splash around in hidden coves. Hike, bike and paddle your way through this coastal paradise. Choose Family or Family Breakaway.
Loire Valley
Biking
From fairy-tale castles to fencing lessons, from flawless gardens to Leonardo da Vinci's home, from riverside hamlets to a centuries-old wine cave, Backroads brings you the family-friendly best of the beautiful and elegant Loire Valley. Choose Family or Family Breakaway.

Brittany & Normandy
Biking
The most action packed historical journey your family could possibly hope for! Hear the stories and see the legendary D-Day sites as you bike your way through colorful towns, quaint villages and beautiful countryside. Throw in kart-sailing, horseback riding, ropes courses and more for the kids.
Holland & Belgium
Biking
Two countries with endless appeal for everyone in the family! Discover the charm of the Dutch countryside and the beauty of Bruges as you pedal past windmills, along canals and over easygoing pathways in this biker-friendly region. Plus all the chocolate you can dream about. Choose Family or Family Breakaway.

Stockholm to Copenhagen
Biking
Pedal with your family through a landscape of country lanes, coastal roads and cycling paths—some of the best urban biking on the planet. Cottages, castles and a fine Nordic cuisine will accompany your journey along the stunning coast of the Baltic Sea. Choose Family or Family Breakaway.
All contents and photography © 2017 Backroads | 801 Cedar Street, Berkeley, CA, 94710 | 800-462-2848