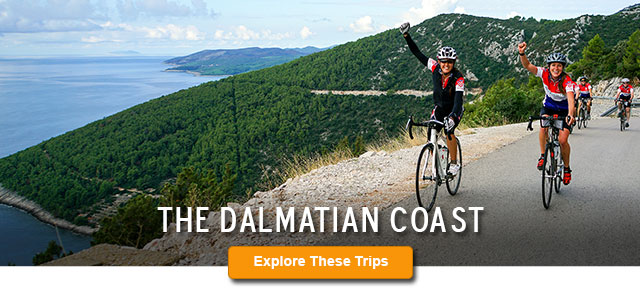 Since debuting our first Dalmatian Coast over a decade ago, it's been apparent that this is a special place—epic cycling and hiking, stunning scenery, plus inviting Mediterranean treasures—delicious food, friendly locals, intriguing history and plenty of sunshine. Backroads now offers more ways than ever to experience this incredible place—Biking, Hiking, Multisport, Family and Family Breakaway. Our industry-leading organization and support, paired with our elite team of Trip Leaders, ensures you and your crew enjoy ultimate flexibility and a genuinely immersive experience as you make your way along the roads and trails of this coastal paradise. Be active. Lounge on the beach. Feel alive. Even better, do a little bit of it all. We're confident the Dalmatian Coast will capture your heart as thoroughly as it has ours.
To book your trip, call us at 800-462-2848; we're open daily 6 am - 6 pm, Pacific time. Or visit us at www.backroads.com.
The Beautiful Dalmatian Coast
Dalmatian Coast
Biking
Explore this cyclist's dream by bike! Riding smooth curving roads that wind through the hills and along the magnificent coast, you'll island-hop and pedal your way through the beauty of it all—with plenty of opportunities to take a refreshing dip and soak up the sunshine, of course.

Dalmatian Coast
Family Breakaway Biking
Bring your older teens and 20-somethings on this Family Breakaway version of our popular biking trip! Explore coastal islands, seaside villages and the architectural masterpiece (and Game of Thrones shooting location) of Dubrovnik. Experience "the Mediterranean as it once was."
Dalmatian Coast
Family Multisport
Sapphire waters to your left, Renaissance façades on your right, stunning beaches waiting to be explored. Island-hop along the sunny Adriatic and splash around in hidden coves. Hike, bike and kayak your way through this coastal paradise. Choose Family or Family Breakaway.

Dalmatian Coast to Montenegro
Multisport
Two distinct and wonderful countries, each with its own culture, traditions and landscape. Explore Dubrovnik on two wheels, swim in the crystal clear waters of the Bay of Kotor and hike to the top of Mount Lovćen in Montenegro.
Dalmatian Coast to Montenegro
Family Breakaway Multisport
Our same exciting Multisport Trip tailored for families with older teens and 20-somethings. Bike, hike, swim and explore your way through two diverse and beautiful countries. Hit the town for a night in vibrant Dubrovnik and soak up the sunshine of the Mediterranean!

Dalmatian Coast
Walking & Hiking
Explore the reborn Dalmatian Coast on foot, gaining insight into Croatia's history and culture. Hike amid olive groves, undulating fields and jagged cliffs, then indulge in the freshest local seafood. Fall in love with the laid-back beauty of Croatia, one step at a time.
All contents and photography © 2017 Backroads | 801 Cedar Street, Berkeley, CA, 94710 | 800-462-2848