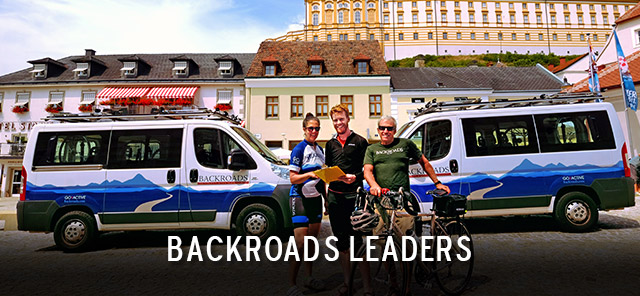 Do you have a memorable leader from a past trip? Message us on Instagram or Facebook to let us know what made them special and nominate them to be our next featured leader! And follow us on Instagram and Facebook as we regularly feature our leaders in 2017.

As anyone who has been on a Backroads trip knows, our leaders are the spark that turns a fantastic trip into something magical. Without their tireless energy, creative minds and true dedication to their role as exceptional leaders, we wouldn't be anywhere close to the company we are today. We want to give you an opportunity to meet two great leaders who were first introduced to Backroads as guests. They were so inspired by their Backroads experience that they later joined our leader ranks and now share their passions with our guests in all the beautiful corners of the world. Keep an eye out for them on your next Backroads trip!

Know Someone Who Would Make a Great Backroads Leader?
Encourage them to get in touch with us at www.backroads.com/leaders

To book your trip, call us at 800-462-2848; we're open daily 6 am - 6 pm, Pacific time. Or visit us at www.backroads.com.
Backroads Leaders Make the Difference
Backroads Staff Ride 2016
Our annual staff ride is one of the great highlights of our year. In 2016 we gathered with 330 leaders and staff in beautiful Mallorca Spain for four days of truly epic riding, dining, dancing and celebration. See if you can spot your favorite leaders in this highlight video!

Backroads Is Hiring Now!
Do you know someone who would make a great Backroads leader? Backroads is looking for passionate, hardworking and dynamic individuals to join our ranks in 2017! Check out our hiring pages for more information on this experience of a lifetime.
Casey Carr
Casey fell in love with Backroads at age 10 on the Glacier Multisport Camping trip. She immediately set her mind to being a Backroads leader and, at 14-years-old, wrote Backroads founder Tom Hale to petition to have the minimum age restriction lowered below 21.

Michael Bluestone
Michael first experienced the Backroads world as a teenager on a trip to Alaska. He never forgot how impressed he was with the role his leaders played in facilitating a special group dynamic. Now Michael plays that very same role as he leads trips primarily in nearly every region of Italy.
All contents and photography © 2016 Backroads | 801 Cedar Street, Berkeley, CA, 94710 | 800-462-2848